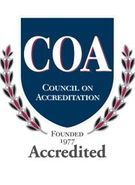 Project Woman (PW) is proud of being accredited by the Council on Accreditation (COA) for over 10 years.
We are in the process of reaccreditation. This process provides a framework for Project Woman to continuously improve and offer evidence-based best practices that support our clients and our community.
Becoming accredited—and being reaccredited—means Project Woman has met and maintains COA's high standards in 14 critical areas:
Administrative & Service Environment
Financial Management
Governance
Human Resources
Performance Quality Improvement
Risk Prevention
Training and Supervision
Case Management
Clients' Rights
Crisis Response & Information Services
Domestic Violence Services
Housing Stabilization and Community Living Services
Mental Health and/or Substance Use Services
Program Administration
Project Woman is proud to have served our community for over 47 years (since 1974) and is honored that our hard work of providing critical services to those we have served over these many years was recognized via accreditation and then reaccreditation by COA. 
We look forward to participating in COA's rigorous multi-month reaccreditation process and thank the community, friends, and supporters for their dedication over the year!
Peace,
Laura