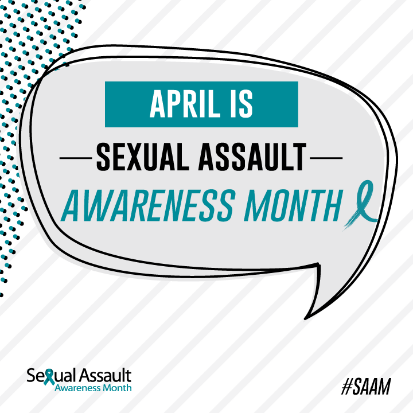 April is Sexual Assault Awareness Month (SAAM).
Sexual violence is any sexual activity where consent is not freely given. According to the Center for Disease Control, Sexual violence is a serious public health problem in the United States.
More than 1 in 3 women and nearly 1 in 4 men have experienced sexual violence involving physical contact at some point in their lives.
There are 42 million survivors of child sexual abuse living in the U.S. today.
Please join us for National Denim Day – April 24th – as a symbol of protest against misconceptions around sexual assault. The event was originally created by Peace Over Violence in response to a Supreme Court case in which a rape conviction was overruled because the victims' tight jeans implied consent. 
Post and share your Denim and Teal photos and tag us on Facebook!
While there is no way to eliminate the change that something may happen to you or someone you care about, there are strategies that may reduce risk and give confidence to step in to prevent sexual violence. Read more at RAINN.
Victims do not earn or deserve the abuse they experience. The only one responsible for sexual violence is the rapist.
https://www.cdc.gov/features/sexualviolence/index.html
Until next Monday Matters – Peace, Laura