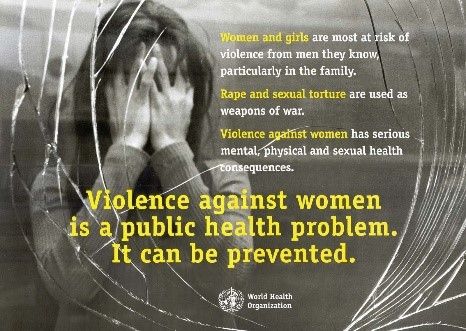 This morning, over a cup of coffee, I was considering the Women's Movement. This is on my mind every day. Some days my thoughts celebrate the strides we have made and other days I grind my teeth in frustration. The Violence Against Women's Act has not yet been reauthorized. It is tied to a budget stalemate of gigantic partisan proportions. The concern is not just about the funding associated with the provisions in the Violence Against Women Act and how will Rape Crisis Centers and Domestic Violence Shelters continue to operate. It is about the clear message of it all being "less important." But these issues are very important. According to the CDC they are a significant public health concern and have significant impact on our economy! Here are some things we know:
Sexual violence is common. 1 in 3 women and 1 in 6 men experienced sexual violence involving physical contact during their lifetimes. About 1 in 5 women have experienced completed or attempted rape and 1 in 17 men have been made to penetrate someone else in their lifetime.
Sexual violence starts early. 1 in 3 female rape victims experienced it for the first time between 11-17 years old and 1 in 9 reported that it occurred before age 10.
Sexual violence is costly. Recent estimates put the cost of rape alone at $122,461 per victim; including medical costs, lost productivity, criminal justice activities, and other costs. According to the federal Department of Health and Human Services there is a population economic burden of nearly $3.1 trillion (2014 U.S. dollars) over victims' lifetimes, based on data indicating that more than 25 million U.S. adults have been raped.
This brings the rumination back to budgets and government priorities for funding. The information and data here is focusing only on sexual violence. To get the whole economic picture we have to include the cost of domestic and intimate partner violence, dating violence, and stalking. Since one of the main goals of our government is to strengthen our economy then reauthorizing VAWA is a WIN all around the negotiating table!
https://www.cdc.gov/violenceprevention/sexualviolence/index.html
Until next Monday Matters – Peace, Laura