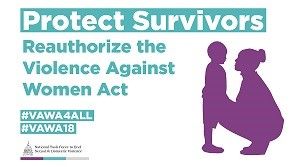 Domestic violence is not a new phenomenon, yet society has only recently begun to recognize the tragedy of violence against women as a social problem of extraordinary proportions. For far too many women, home is a place of greater danger than places in public view – more dangerous than places of work, more dangerous than interstates and freeways, and more dangerous than city streets. This crime affects nearly one-third of American women. Domestic violence causes far more pain than the visible marks of bruises and scars.
By the early 1980s, statistics proved that isolated cases of abuse were part of a shocking national problem. As a result, victims became more visible, as well as the inadequacy of society's response. The battered women's movement emerged, becoming one of the most powerful social justice and service movements in United States history.
Shelters and hotlines began to spring up around the country and what began as a social, service-based response to crisis began to take on political urgency. The staggering numbers of women and children turning to shelters continually outpaced the growth of the movement. The shelter work uncovered endless horror stories: law enforcement officials who mislabeled domestic disturbances, judges who ruled in favor of perpetrators, and health care providers who mishandled violence-related injuries. At every turn, women seeking help could expect indifference, hostility, and endangerment. It became clear that helping women in crisis required more than front-line emergency service: it required changing the established social institutions and the laws affecting them.
During the 1980s, a vibrant network of nearly two thousand domestic violence programs in the United States organized into state coalitions to take on the challenge of pressuring social institutions to adequately respond to victims.  The 1990s proved to be a turning point decade with the Violence Against Women Act being passed in 1994.  This major federal bill provided more than $1 billion to assist shelters, train law enforcement personnel and judges, and support other crime-prevention efforts addressing violence against women. (stay tuned to our posts for more about VAWA!)
Domestic violence remains an unavoidable threat to the fabric of all families and the well-being of society's future. As Abraham Lincoln once stated, "To SIN BY SILENCE when we should protest makes cowards of men."  It is about changing lives and being part of a larger movement that addresses all types of violence against all women, men and children.
Don't be silent! Together we can make change!  To get involved, go to our website and learn more!
Until next Monday Matters – Peace, Laura