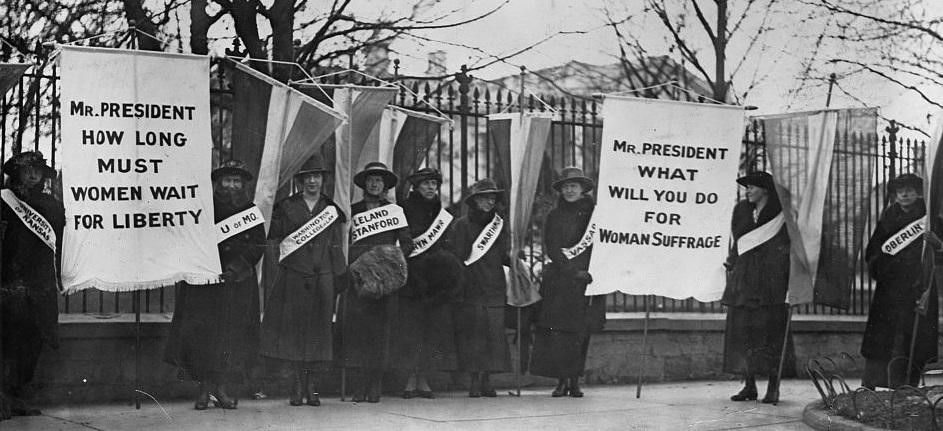 Photo Credit: College day in the picket line; Library of Congress; womenshistory.org
The effort to gain equality and equity for women did not begin with earning the right to vote nor did it end with it! But the journey to gain the right to vote would span 144 years and is one filled with distraction, controversy, and violence.
As a young girl, I listened intently to the stories my great grandmother, Sarah, would tell. She and her sister, Maggie opened a boarding house together in Toledo; they once road a train to the Black Hills and met family on a reservation, and did fun things like sold "bathtub gin" to 'make ends meet'. They also spoke of suffrage. As a little girl I thought they were saying that they were Suffer-Jets. That sounded mysterious … and fast! I silently admired them for whatever they had suffered and thought they must be the strongest women ever made! As I grew older and learned about the Woman's Suffrage Movement my admiration for my great grandmother and aunt took on a deeper meaning!
The U.S. movement officially began in 1848, when a woman's rights convention was held in Seneca Falls, New York. But, from our post last week, we know that Abigail Adams urged her husband, John, to remember woman's suffrage in 1776!  Since the founding fathers did not listen to Abigail, it took another 144 years, filled with distraction, controversy and violence, for the woman's suffrage movement to obtain its goal.
After the Civil War ended in 1868, when the Fourteenth Amendment was ratified it defined "citizens" and "voters" exclusively as male. This was definitely not a step in the right direction! It was not simply that women could not vote but rather that it was illegal for women to vote! When Susan B. Anthony cast a vote for Ulysses S. Grant in the presidential election of 1872 she was arrested and brought to trial.
On March 3, 1913, the day before Woodrow Wilson's presidential inauguration, 8,000 women gathered to march down Pennsylvania Avenue in support of women's right to vote. The crowd grew angry and men poured onto the street, shouting insults and began to physically attack the marchers. Eventually, boys from the Maryland Agricultural College created a human barrier protecting the women and allowing them to reach their destination.
In June of 1917, National Woman's party picketers were jailed for up to six months on charges of obstructing sidewalk traffic.  Alice Paul, leader of the party, was put in solitary confinement in the mental ward of the prison as a way to "break" her will and undermine her credibility. Other women, who went on a hunger strike, were violently force-fed.
Woman's suffrage took a step forward during World War I, largely because of the labor shortage. By women moving into roles traditionally held by men, it became increasingly difficult for opponents to argue that women were unworthy to vote based on physical and mental inferiority.  The 19th Amendment, granting women the right to vote, was finally ratified on August 18, 1920.
When I think about Sarah and Maggie there was nothing physically or mentally inferior about them. They were strong and courageous; brave in a world where women could not own property if they were married, had limited access to jobs, banking, and healthcare! They were among thousands of women who marched, shouted and demanded a ballot – to be a voting member of this country.
As we get ready to vote again in November, it is important to remember this hard-fought right for women to vote.
For more reading:   Woman Suffrage Movement     Woman Suffrage Timeline
Until next Monday Matters – Peace, Laura