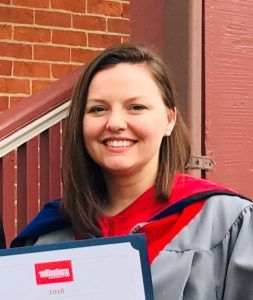 Wednesday's Woman! By Laura Baxter, Executive Director
Unlike the woe of Wednesday's Child in the poem by A.E. Bray, Wednesday's Women are full of empathy, grit, and wonder! For Domestic Violence Awareness Month we will feature women every Wednesday who have paved the way for women's issues throughout our history both nationally and locally! Some continue efforts today, some have long since written their memoirs or fill pages in history books. But all are alive in our hearts and in the spirit that drives the women's movement, ending gender-based violence, and ensuring that we continue forward!
Our first Wednesday's Woman is Dr. Brooke Wagner.
Brooke is an Associate Professor at Wittenberg University. As Director of the Wittenberg campus Womyn's Center, Brooke has helped to build the Campus Advocacy and Support Service program (CASS). CASS provides support services for survivors of violence through a collaboration with Project Woman and funding through the Ohio Attorney General's Office. In 2013 Brooke worked with Project Woman and the Student Development Office at Wittenberg University to develop the Not without Consent (NWC) training for incoming university students aimed to prevent sexual violence. NWC was selected by the Ohio Attorney General's Office as a Promising Practice in 2015.
Before coming to Springfield, Brooke worked in Las Vegas and the county jail system to determine factors leading to recidivism as it related to sexual violence. Brooke's work helped to inform and develop community-based prevention and intervention programs to support victims and survivors in Las Vegas.
Brooke has certainly used her skills and talents as a sociologist to inform community efforts through analysis and research for over 16 years! There is a lot to know about Brooke, certainly more than we can share in this post! But being a great sociologist and university professor is not the only reason Brooke is our first Wednesday's Woman.
On Thursday, October 4th, Project Woman will present its 5th annual Chrysalis Award to Brooke for "having the heart of an advocate." Brooke was nominated for the Chrysalis Award by students and colleagues who stated, "Brooke is an advocate in everything she does!" "Her passion for making sure the voice of others is heard is something I hope to achieve in my own life!" and "Brooke can see the unique, powerful and worthwhile story in all people's experiences…it is what drives her to do this great work!"
Have a Wonderful and Inspired Wednesday everyone!
Peace, Laura